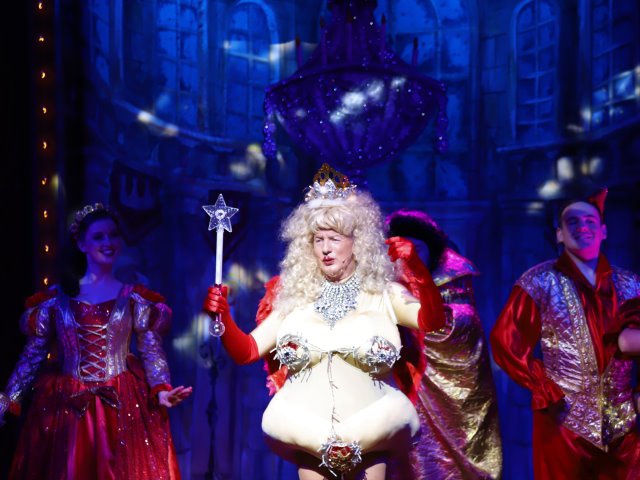 'We all love a panto' … Vincent Hayes is the Good Fairy.
The Victorian critic, Leigh Hunt, summed it up when he wrote "Not to like pantomime is not to like love". All human life is portrayed in a riot of over the top colourful characters who are put through their paces in a battle of good and evil – but all is guaranteed to come right in the end – usually helped by the Good Fairy!
In Schlepping Beauty (Brick Lane Music Hall 2017, pictured below) there were no less than four 'Good Fairies' to do battle with The Wicked Queen (aka Nigel Ellacott) when she arrived to spoil Princess Beauty's birthday party! Led by Hayley-Jo Whitney (far left).
The modern day theatre critic, Jonny Mans, described Brick Lane Music Hall's annual pantomime for grown-ups as "Probably the best, and funniest pantomime I've ever seen" (Encore Magazine 2017).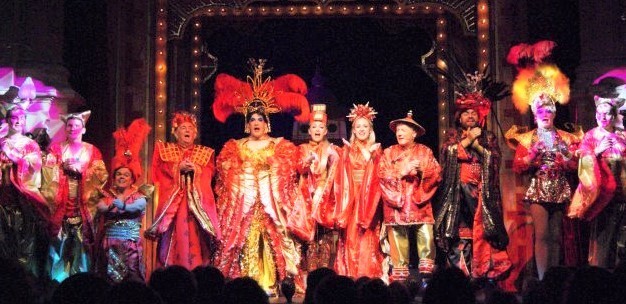 Aladdin 2108 – left to right, Nathan Lodge, Sam Sadler, Ben Goffe, Paul James, Andrew Robley, Lucy Reed, Shelby Morgan, Vincent Hayes, David Phipps-Davis, Nigel Ellacott, Jordan Langford.
Reviewing our 2018 pantomime for grown-ups, Aladdin, in The Stage, Paul Vale sees the Brick Lane Music Hall panto' with "its old-fashioned sense of fun" as "the perfect antidote to the February blues".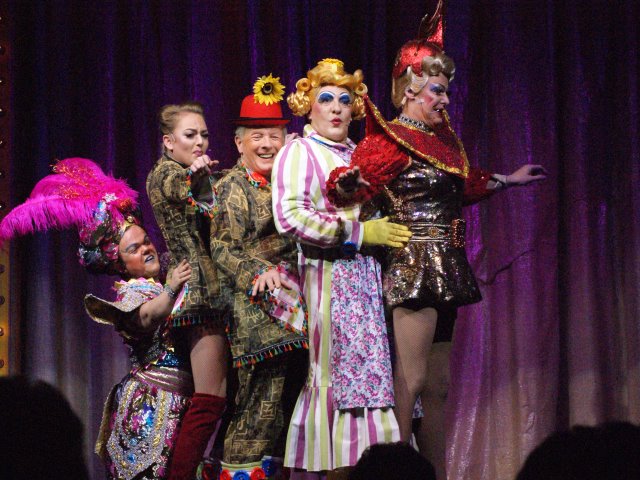 "Vincent Hayes' production has all the warmth and geniality of an old time music hall… Zara Kattan's traditional design is comic, colourful …. " The Stage, February 2018. Above, left to right, Ben Goffe as Genie, Lucy Reed as Aladdin, Vincent Hayes as Wishee Washee, Andrew Robley as Widow Twankey and Nigel Ellacot as Slave of the Ring. Below, Andrew Robley 'ebullient' as Widow Twankey.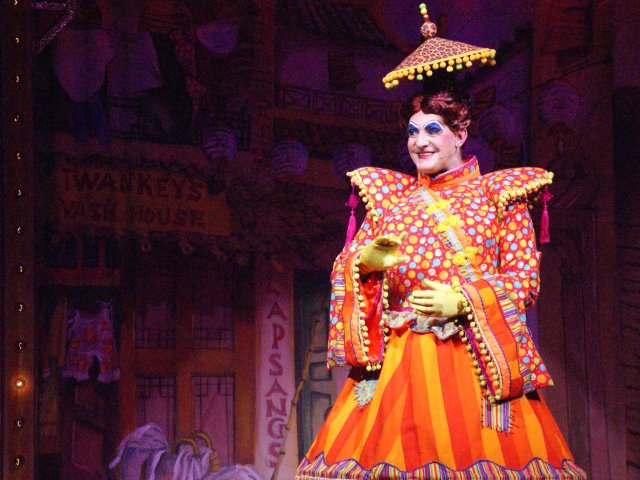 Preparations are already well under way for our 2019 pantomime, Mother's Goosed! which will run from January 23rd – March 2nd 2019. Written by Paul James, produced by Zara Kattan and directed by Vincent Hayes, Mother's Goosed! will star Vincent Hayes, Paul James and Andrew Robley (as Mother Goose) with Lucy Reed and Shelby Morgan, alongside the incredible David Phipps-Davis and introducing Phil Randall (as The Goose, of course ….).
Due to the Brick Lane Music Hall panto's overwhelming popularity, there is a waiting list for anyone who wishes to see Mother's Goosed! and has not yet managed to book.
We can announce that the run has now been extended into the week commencing 4th March 2019.
But hurry! A small number of tickets for this week have been released on a first-come first-served basis.
Contact the Box Office ASAP for details.