If the 1950's was epitomised by the emergence of rock and roll, when it was finally "cool" to be a teenager, the 1960's was a decade of liberation, when the young led the way, in a period of optimism, hedonism and cultural revolution. In Britain, the 1950's had been a period of quiet recovery from the Second World War, but by the 1960's the whole country had sprung back to life and London became "the Swinging City",  the centre of new trends in music, fashion and art.
For an insider's guide to the liveliest decade of our time, we spoke to a man who can claim to have insider knowledge of the subject, Mr Paul James.
"I was a teenager in the early 60's and we had never heard of the Mersey sound. We listened to records like "Starry Eyed" by Michael Holliday, "Why?" by Anthony Newley and some new guy called Cliff Richard and his group The Shadows.
In 1963 I entered Gravesend Art College for a two year course in commercial art. I had recently started playing the guitar along with thousands of other kids (skiffle music had a lot to answer for) and it wasn't long before I had met up with three other students to form a group called The Soundcasters. We were a great success and within a year were working five nights a week with the stars of the day: The Walker Brothers, The Yardbirds with Eric Clapton, The Searchers, in fact there weren't many star names we didn't support. We would tour the country in a beat up old Bedford van returning every night for college the following day.
To my amazement, I actually finished the course and landed my first job in an advertising agency in London's West End! I lasted three weeks. I hated it. I had got a taste for show business. I saw an advert in a music paper, The New Musical Express, it just read: "Young person wanted for a theatrical agency. Must understand the pop music business. Phone this number." I did, and an hour later I was standing outside Sutherland House, Argyll Street, a large office block right next door to the London Palladium. There I met Alistair Taylor, who was to give me a job that would change my life.
As I was leaving his office I noticed pictures of The Beatles, Cilla Black, Gerry and The Pacemakers and Billy J Kramer. I said "I love all those acts". He said "Just as well, they are paying your wages." It was then I realised I was working for Brian Epstein and his Empire NEMS Enterprises. I was eighteen years old working for the biggest pop names in the business – and did I ever meet the Beatles? OH YES, EVERY DAY!"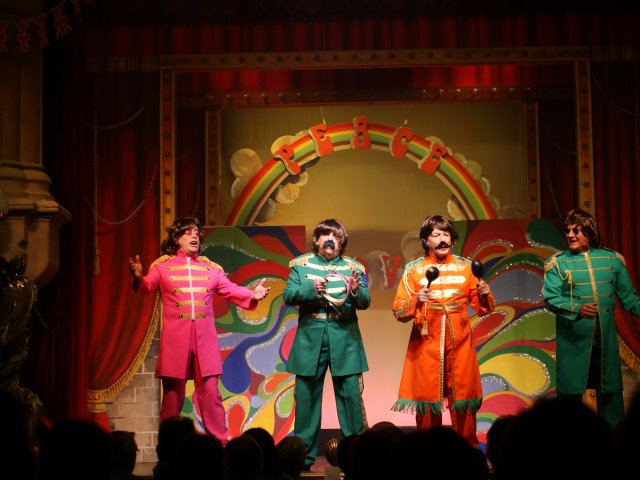 Pictures: top, Paul James on stage in The Sixties Show at Brick Lane Music Hall. Above, as one of the "Fab Four", alongside Bill Byrne, Vincent Hayes and Andrew Robley. Below, left to right, Andrew Robley, Paul James, Anita Harris, Vincent Hayes, Bill Byrne in 2017.
And below, Agnes and Ruth, aka Paul James and Vincent Hayes, show us how it was done!
Back to the 50's and 60's – May 25th – June 9th 2018.