Although Danny La Rue liked to quip that he was just "a comic in a frock" – the sheer glamour and sumptuousness of those frocks, the fabulousness of the head dresses, the lavishness of the jewellery, the fur trimmed capes and feather boas – the unadulterated elegance, from his immaculately coiffured wig down to the perfect shoes on the end of those famous long legs, means that Danny La Rue will be forever remembered as a comic that changed the course of history.
Danny La Rue will be featured in a new series being made by Irish Television company, RTE, called 'Shoulders of Giants', and this week the producers came with a crew to Brick Lane Music Hall to film interviews with Vincent Hayes, Andrew Robley, Barry Cryer and Anita Harris, who spoke about working with Danny La Rue, and with Annie Galbraith, his long-term assistant, costume designer and dresser.
But centre stage were those incredible frocks, lovingly preserved by Annie, and by costumier, Steven Metcalfe, who first met Danny at The Palace in the 1970's and has been key to preserving this iconic collection.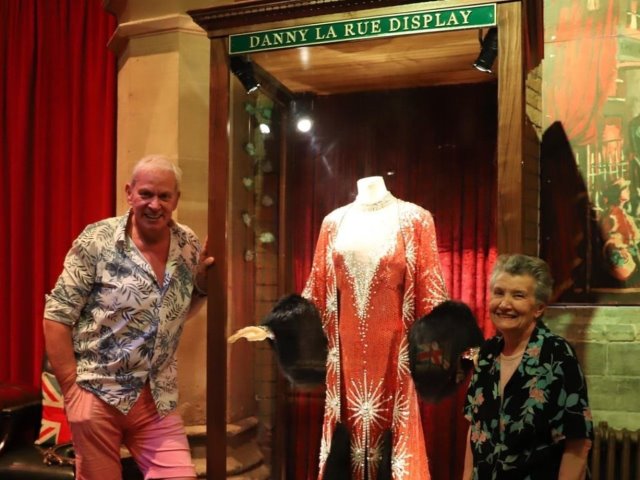 Over recent years, Steven has been involved in costuming at Brick Lane Music Hall, sprinkling some extra glamour with wigs and head dresses, particularly during panto season. He also curates our regular display of Danny La Rue costumes, often accompanied by original photographs and drawings.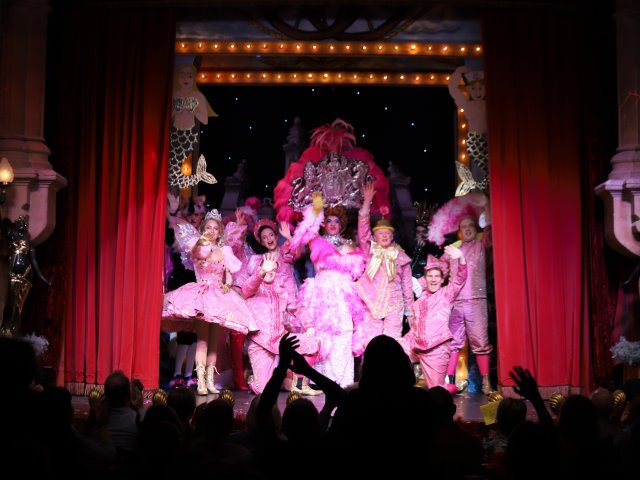 Above, Big Dick Whittington finale costume worn by Andrew Robley, head dress designed and made by Steven Metcalfe.
Wig and specially made head dress from Steven as part of Vincent Hayes' tribute to Danny La Rue.
We are happy to say that Steven plans to bring even more of his flair and expertise to Brick Lane Music Hall going forward. He is currently working on new designs and ideas to bring on the glitz and glamour to forthcoming shows. Watch this space!