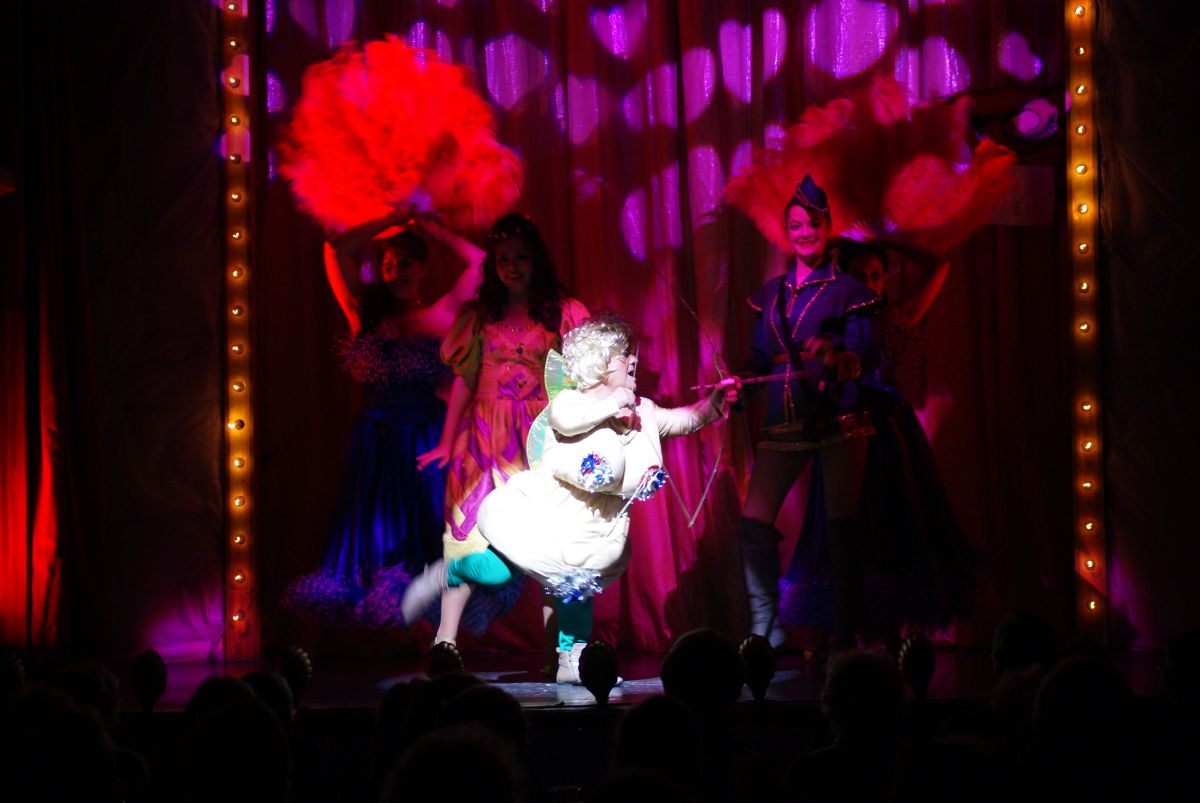 This week Brick Lane Music Hall celebrates 28 years since Vincent Hayes first opened Brick Lane Music Hall in the Truman's Brewery in London's Brick Lane in February 1992.
Our current show at Brick Lane Music Hall is Big Dick Whittington, our pantomime for grown-ups –  an annual tradition which started back in the earliest days in Brick Lane.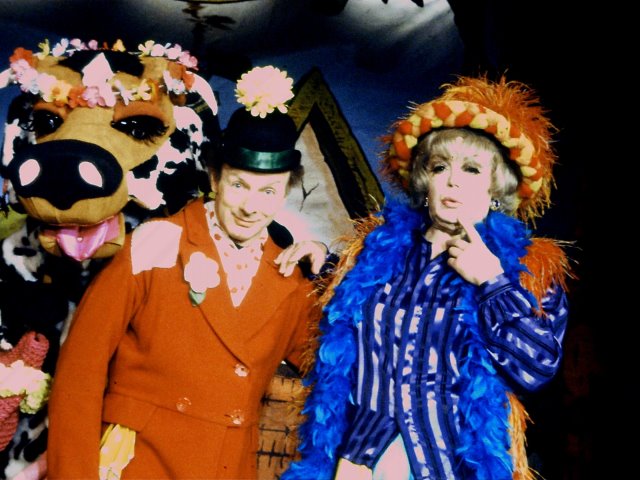 Pictured above – Jack and the Beanstalk – Vincent Hayes is Silly Billy with the late great Tommy Osborne as Dame.
Pictured, Tommy Osborne with Tony Page as the Ugly Sisters in Cinderella and in Aladdin with Brian Walker and Phil Starr.
Vincent Hayes is Wishee-Washeee in our first Aladdin, with Lowri-Ann Richards in the title role and Brian Walker as Abanazar.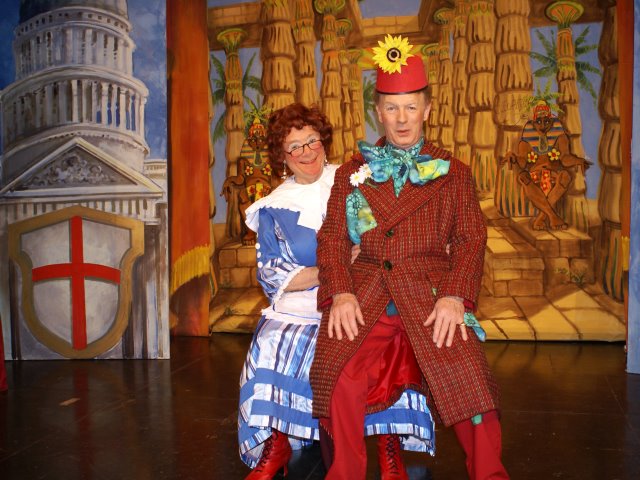 Vincent Hayes with Chris Emmet in Snow White in 2008 when Rusty Goffe (pictured at the top of the page playing Cupid in Robin Hood) played all 7 dwarfs in a cunning benefits scam.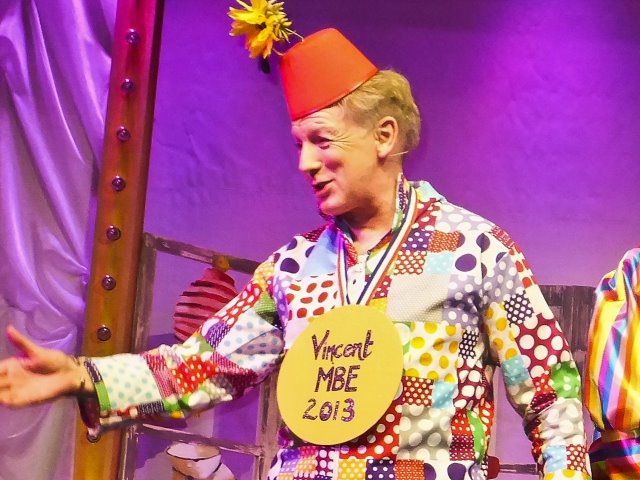 It was in February 2013, during a later production of Aladdin, that Vincent Hayes visited the Palace to collect his MBE, being sure to return to the theatre in time for curatin up for the matinee performance, where he was presented with his very own pantomime award to wear on stage for the afternoon!
Theatre critic, Jonny Mans, described Brick Lane Music Hall's annual pantomime for grown-ups as "Probably the best, and funniest pantomime I've ever seen" . Encore Magazine
Left to right, Ben Hutt, Andrew Robley, Vincent Hayes and Sam Sadler in Schlepping Beauty 2017.
Our pantomimes have proved so popular, that over the years, in order to offer more shows, the run has gradually been extended through to March.  Last year, our last show had been planned for March 2nd, but tickets sold so fast that we had to extend the run for a further week, to March 9th 2019, and this year the last show of the run will be March 14th!
Alex Belfield of Celebrity Radio has described this year's pantomime as:
" A gem of a pantomime…. a five star panto dowsed in fabulousness".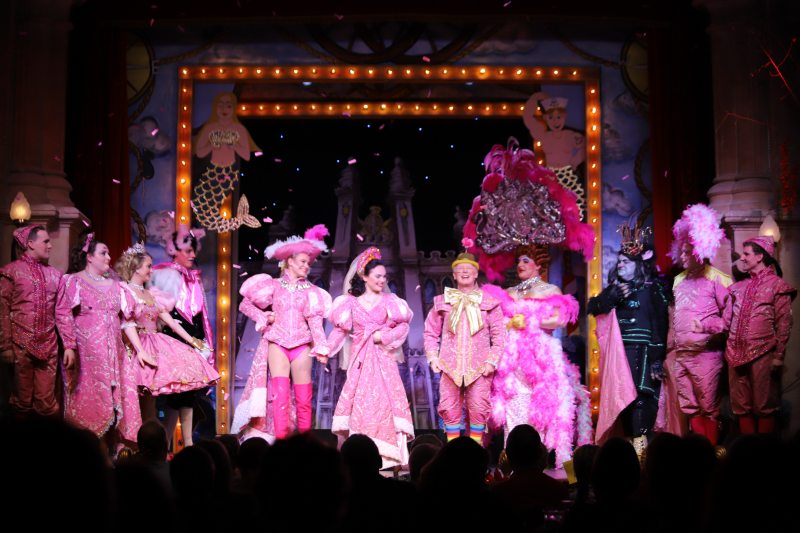 Big Dick Whittington, left to right, Jordan Langford, Julie Cloke, Lucy Reed, Ben Hutt, Amethyst Gostlow-Crossley, Betty Jones, Vincent Hayes, Andrew Robley, David Phipps-Davis, Chris Draper and Sam Sadler.
Paul Vale has written in The Stage :
"With its old-fashioned sense of fun" , the Brick Lane Music Hall annual pantomime "proves the perfect antidote to the February blues and Vincent Hayes' production has all the warmth and geniality of an old time music hall."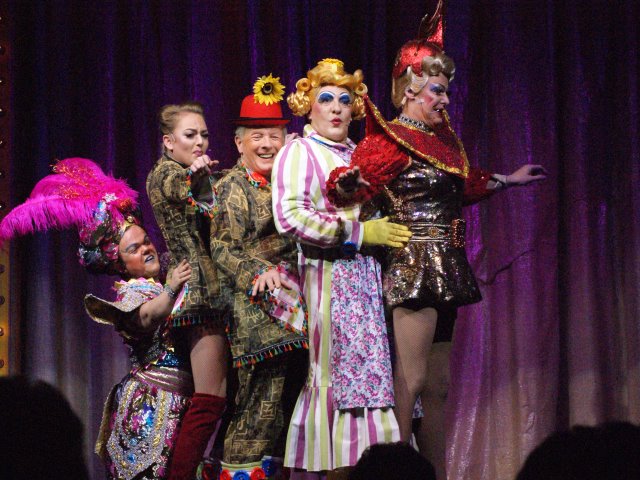 Aladdin 2018, with left to right, Ben Goffe, Lucy Reed, Vincent Hayes, Andrew Robley and Nigel Ellacott.
Thanks to all our customers, artists and friends for celebrating pantomime and music hall with us over so many years!