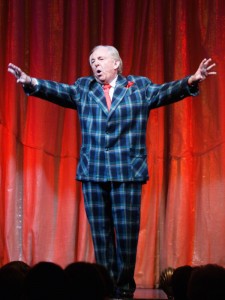 A well known name, especially to listeners of BBC Radio Kent where he had his own Radio show with his good friend Paul Harris for many years, Paul James has been in show business for over 45 years.
Having started out as a musician, where he supported some of the top groups of the 60's, Paul's career has covered most aspects of the business, from performing live on P&O cruises and summer seasons in variety to radio and television. Paul was privileged to appear twice at the London Palladium. He was commissioned to write and direct To Broadway and Back and Juke Box Jive for Butlins Holiday Centres.
Paul has appeared at Brick Lane Music Hall in many shows, from the annual pantomime for grown-ups to fifties and Sixties shows and Vincent's Christmas Wonderland.
As sketch writer, musical advisor and principal comedian alongside Vincent Hayes, Paul claims to have the best job of his life.