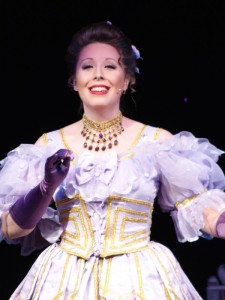 Laura has always had a passion for musical theatre and has performed from a young age in many professional pantomimes across the South East. Following a three year music degree at the University of Southampton, specialising in musical theatre, Laura went on to a one year postgraduate course at Mountview Academy of Theatre Arts.
In addition to her college credits, Laura has appeared in West Side Story with The National Youth Music Theatre Company and The Railway Children-The Musical, where she was part of the original cast recording.
Upon graduating from Mountview, Laura made her Brick Lane Music Hall debut in Be Bop A Lula, and stayed on to appear in the There'll Always Be An England and Vincent's Christmas Wonderland.
Delighted to have been "welcomed into the family", Laura was also persuaded to stay on for the 2015 pantomime Babes in the Wood, performing, as well as taking on the role of choreographer, which she continued throughout 2015.
Laura took part in the Brick Lane Music Hall 2015 Schools Programme, working with children in five local primary schools. Having taken a year out to perform with Disney, Laura will be back at Brick Lane Music Hall in the Autumn of 2017.